The targets and achievements of Commercial Department over the last eight years is as below: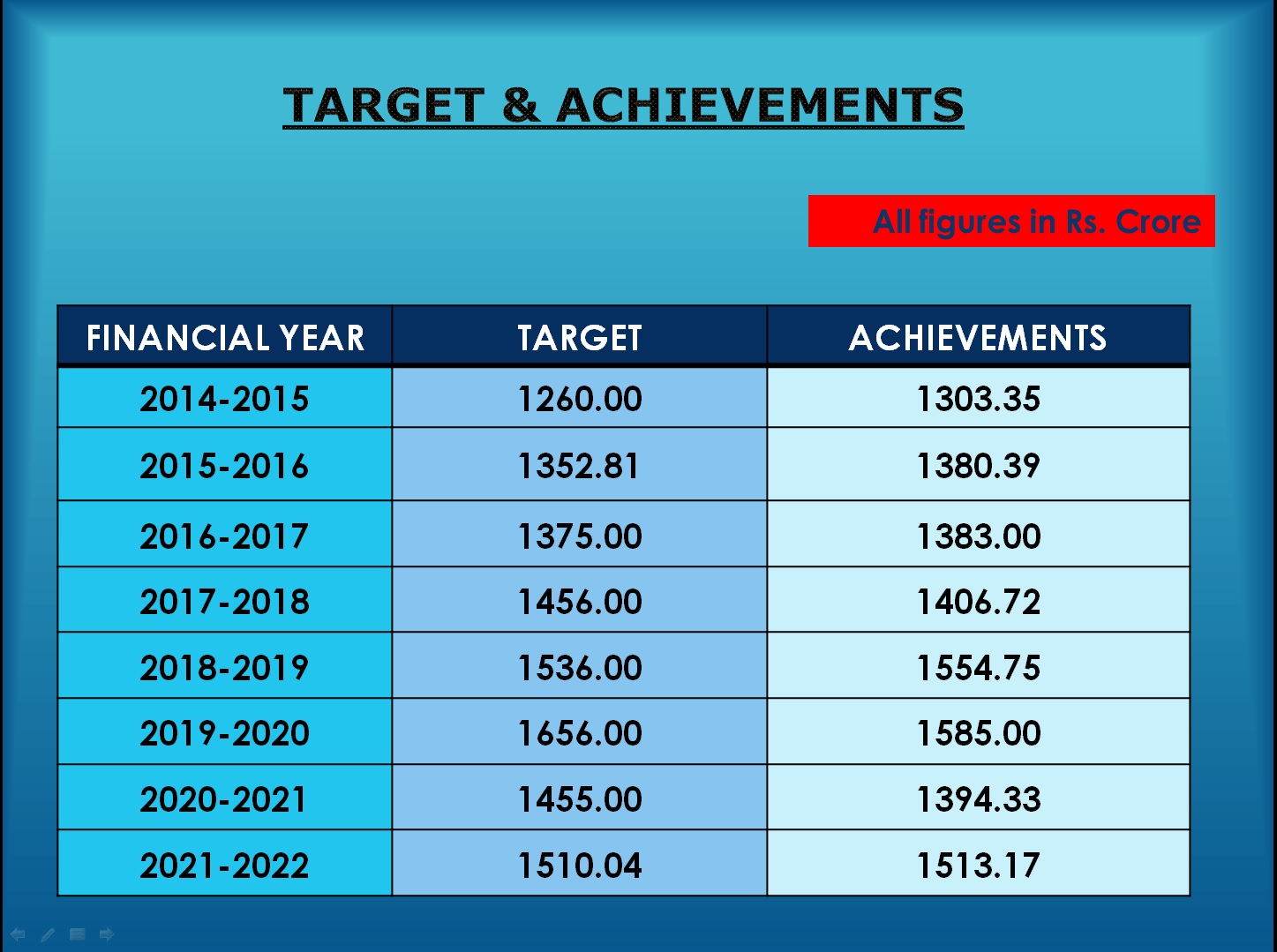 The revenue realization by Commercial Department has been steadily increasing over the last eight years as evident from the ascending graph as shown below: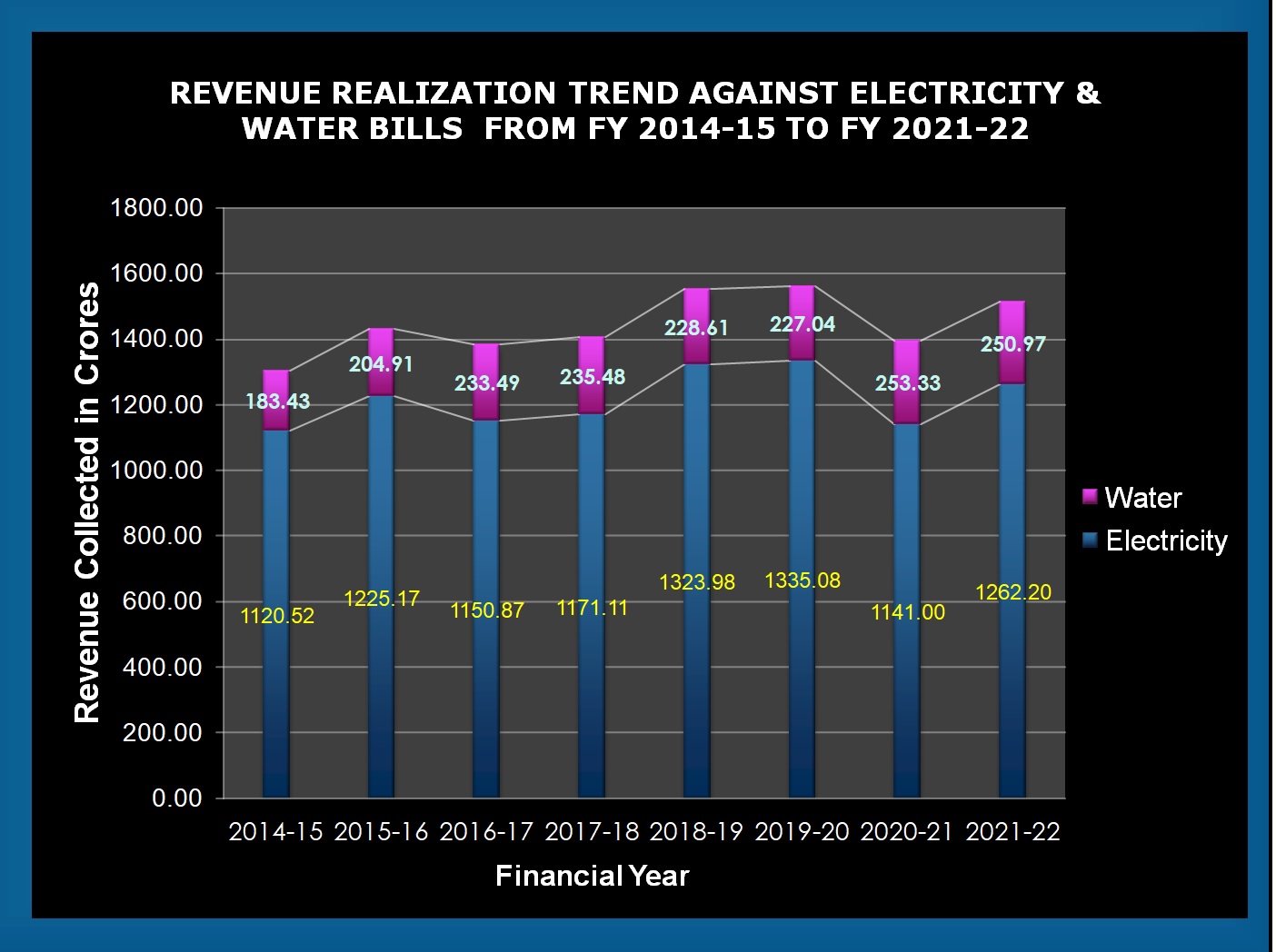 Work target for the year 2022-23
Implementation of AMI based Smart Metering Solutions for all category/groups of connections.
Implementation of Smart Net Metering Solution for Renewable Energy in HT & LT CT Operated Meters.
To bring all electric meter reads in automation through GPRS communication system or other alternate communication mode to HES without human intervention.
Implementation of prepaid metering solution.
To make remote connections and disconnections of all left out Electricity Meters through online system, which is happening due to non communication except LT & HT CT Meters (These connections have special features and technology, which is not put in place by the EESL).
To bring New/updated billing solutions for generation of Electricity and Water bills. This work is in progress and under taken by the IT Department. Many of issues which is being experienced shall be resolved after implementation of new billing solution which will take about 06 months.
Water Meter Reads Manually and raising of bills on CP basis due to non availability of Water meters.
NDMC has implemented e-collection of various payments from consumers/ citizen like Electricity/ Water charges/ Estate license and Property Tax. For this purpose multiple banks have been selected to provide payment gateway services using which the users have option to pay their bills through Credit Card, Debit Card, Net Banking Services, UPI, BHIM, NEFT/ RTGS, etc.
New Delhi Municipal Council (NDMC) is the municipal body of city of New Delhi which covers an area of 42.74 Sqm. with population of 2.5 Lakhs (as per 2011 census).
NDMC has become India's first utility to implement the Smart Electricity Meter in its area, the project was launched on 9th January 2019 by Hon'ble Minister of State of Power, Govt. of India. Under Smart Meter National Programme of Govt. of India and Smart City initiative of NDMC, this programme of replacing all old electricity meter with new smart electricity meter has been implemented. Presently, NDMC has replaced 62,322 Nos. meters with AMI based Smart Meters.
NDMC has planned to replace all HT CT Operated Meters into Smart Meters in near future and the replacement of LT CT Operated meters are in progress. Further, all CTs of HT & LT are also to be replaced for efficient metering and recording of energy consumption.
By way of installation of Smart Meters, NDMC has improved the revenue collection and monitoring of power consumption in real time. Connection & Disconnection operation is being done through online (remotely). NDMC has also installed Smart Net Metering and Smart Renewable Energy Meters in the Domestic and Commercial places to record the Net consumption of energy (import and export) in the premises who have installed Solar Panels.